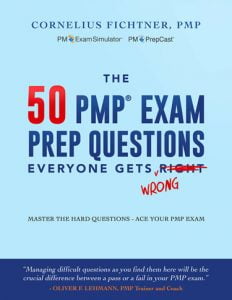 I have the pleasure of introducing a very interesting new book, by Cornelius Fichtner: The 50 PMP® Exam Prep Questions Everyone Gets Wrong.
About Cornelius
Cornelius has served tens of thousands of managers and practitioners with his services. He explores, working with a wide range of industry experts, all facets of project management.
Cornelius has offered, for many years, his informative and entertaining, PM Podcast (https://www.project-management-podcast.com/).
That service was so successful that several years later he formed a new company around the concept. This second initiative is The Project Management PrepCast. He followed that up with a third offering: The PrepCast PM Exam SimulatorTM.
And now, Cornelius has published his first book!
About This New Book
This book explores the PMP exam topics that students often struggle to grasp. It then guides readers through the different question types, and the most challenging topics. Then, he suggests approaches for study, and for coping with vague and confusing questions.
Cornelius takes the 50 hardest concepts and questions from his exam simulator and explains why students get them wrong. Even more importantly, how to get them right on the real exam.
One of the book's reviewers wrote a key comment. "Managing difficult questions as you find them here will be the crucial difference between a pass or fail in your PMP exam."
Cornelius' Very Interesting New Book, 50 PMP Exam Prep Questions Everyone Gets Wrong is now available at Amazon.
My Experience With Cornelius
I first worked with Cornelius in 2006, when he interviewed me for his PM Podcast Episode #055. Our topic: What's Better: Competence or Knowledge Based PM Certifications? He did a great job of helping me highlight the key differences between project management certifications. We compared exams that merely test project management knowledge, and certification processes that assess competence, and capability to perform. A good example of the latter, are the certifications offered by IPMA, the International Project Management Association.
In 2009, I worked with Cornelius again, to record PM Podcast Episode #099, Measuring and Managing Project Quality. In 2011, I participated in his milestone PM Podcast Episode #200; The Number One Challenge in Project Management Today. At that link, my comments begin in Part 2, at about the 16 minute mark.
In Summary
Cornelius asks great questions, and has a firm grasp of the subject of project management. His podcasts are well-worth your investments in time and cost (for those that charge a fee). I'd say that anything Cornelius offers that relates to project management is worth looking into! If you are interested in Project Management Institute's exam-based project management certifications, I'd suggest you consider his Very Interesting New Book!
PMP is a registered trademark of the Project Management Institute in the USA and other countries.