Your Dilemma
You may not know about our and Facilitator Coaching. We gave a solution to your learning dilemma! Your teams need project management skills. But you probably fill that need piecemeal: some Project Managers attend public workshops. Your teams get exposed to inconsistent methods from consultants; still others use the methods they brought from former employers years ago.
You have considered developing in-house, a consistent project management approach, with workshops to teach different levels of intensity. However, even though you have in-house project management expertise, instructional design, and platform delivery skills, you don't have time!
Our Solution
Our Workshop Licensing and Facilitator Coaching program is your solution! Using our flexible Project Management curriculum, we can build the learning experiences that meet your unique needs. Then we can deliver the learning experiences for you, or coach your own facilitators to do so. All for less than your investment of developing one class from ground zero.
Standards-Compliant Project Management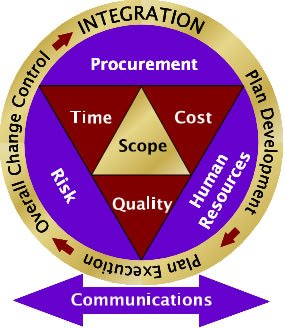 Our learning experience modules are consistent with and support the ANSI Standard for Project Management. Several of our classes are a great starting point for professional certification. If you have more application-specific needs, we can customize content to support those needs, too.
Four programs in our Project Management curriculum are available for licensing. Two are for Project Managers and key team members, including customers, of medium or large projects. Two are for individual contributors, team members, or managers of small projects. Our facilitator-led programs run 2-4 days in duration. When you license a program, you can buy a perpetual or short-term license.
Use Your Own Facilitators
With our Workshop Licensing and Facilitator Coaching, your workshop facilitators emerge with great classroom skills and project experiences to relate, we can coach them to present the learning experiences of your choice. Most facilitators can prepare in 2-4 days per class day; some are much faster.
Happy Customers
Some customers of our in-house Workshop Licensing and Facilitator Coaching prefer that we not divulge their identities—they view our Learning as part of their competitive advantage! However, groups from Government, Big Five consulting firms, Information Technology consultants, Human Resources Consulting, Manufacturing and Finance have all benefited from licensing selected workshops from our curriculum.
For more information: Contact Us today!

Increasing Personal, Project, and Portfolio Management Performance