The Role of the Value-Adding Manager
Why This Course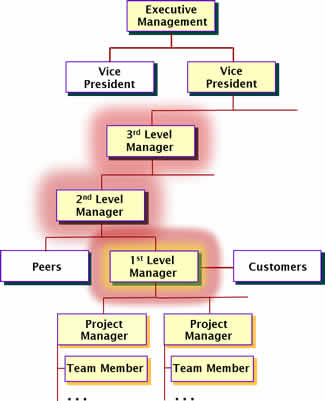 Leading Project Managers is an essential competence for all managers of project-oriented enterprises. In an era of increased emphasis on Management By Projects, some organizations are fully realizing the benefits possible. Many are not, yet. In too many cases, continued improvement comes not from further increasing the skills of Project Managers. Instead, you do so by increasing the project performance effectiveness of organization Managers and Executives.
As organizational leaders, it is your opportunity to build a climate that supports effective project practices. Those practices include accurate and useful estimates, accelerated delivery, and project partnerships with stakeholders. They also include an emphasis on quality, alternatives analysis, and two-way communication. Then you support that climate with consistent methods and improved tools for project management.
This workshop builds upon the current edition of the PMBOK® Guide. It adds the strength of IPMA's Individual Competence Baseline for Project, Program and Portfolio Management. While totally consistent with the PMBOK Guide, this workshop applies insights to serve beyond that benchmark. Why? Because that Guide targets project management of single projects. It does nothing to aid Managers of multiple Project Managers, each having multiple concurrent projects.
This workshop provides Managers with an understanding of the steps you take to improve your organization's project management. It identifies the information you should expect from Project Managers, to improve project success. And, it describes the actions for you to focus upon, to add value in every project initiative in your areas of responsibility.
Note: There are two versions of this workshop; one os for Managers who have significant experience in managing projects. The other version is for those who have not done so. Note that we always tailor this session to the specific needs and culture of your organization.
Learning Objectives (2 days)
1. Explore the Manager's Perspective Of Today's Project Management.
Describe Project Management, its purposes, and results, from a Manager's view.
Discuss the challenges facing Managers in today's projects, and the actions those who are Leading Project Managers can take to overcome the challenges and improve project success.
Identify the small portion of any project that has the greatest impact on project success, where Managers can guide their teams to excellent performances.
Describe the five most-important roles of Managers of Project Managers in Project-Oriented Organizations.
Discuss the most-important impacts a Manager has on the development of Project Managers.
2. Discuss the Secrets Managers Apply To Effectively Support Project Teams.
Identify the Vital Signs that effective Managers prioritize, communicate, and monitor, to increase his or her staff's chances of project success.
Explain the importance of Leading Project Managers by managing the project climate, including factors such as appropriate prioritization and staffing, and the consequences of failing to do so.
Describe the use of a Project Life Cycle, the most-important result of each phase or stage, and the role of Managers in Milestones or Stage/Gates.
Identify the key questions a Manager must ask to assure that their teams use appropriate project management approaches and techniques.
Explore the role of Managers in managing upwards in Project-Oriented Organizations, and the organizational benefits when you do so effectively.
3. Techniques Managers Can Support to Improve PM Success.
Discuss the most-important PM tools and techniques Managers can support, and identify the benefits of consistent use of those techniques.
Explore a range of assessments that identify the competence strengths and gaps of project managers and project stakeholders, individual projects and their results, and entire organizations.
Explain the resulting impacts on project risk and success.
Apply a Project Communication Plan template to review or guide communication planning for a typical project size.
Describe the greatest differentiators between high-performing project teams, and those that are not, yet.
4. Monitor and Communicate to Add Project Value.
Discuss the differences between Leading and Lagging Indicators, and their use in evaluating and improving Project Performance.
Given a Baseline plan, identify the most important actions those who are Leading Project Managers take to identify the status on single projects and a portfolio of projects.
Discuss the Manager's role in Project Risk Management, and the unexpected sources of the most useful Project Intelligence.
Identify the different actions taken by Managers and other Stakeholders who add value, versus those who do not.
Audience
This workshop targets the 1-5 levels of Managers to whom Project Managers, Program Managers, and their teams report. Many workshops cover aspects of the discipline of project management. But, very few provide the additional insights Managers need to help teams to consistently deliver successful projects and programs.
The workshop does not teach Managers how to manage projects. Instead, it exposes how to maximize the value of their Project Managers, while improving the value-add of every project your teams manage.
PMBOK is a registered trademark of Project Management Institute; IPMA is a registered trademark of the International Project Management Association.