Why This Executive Overview  (2 hours)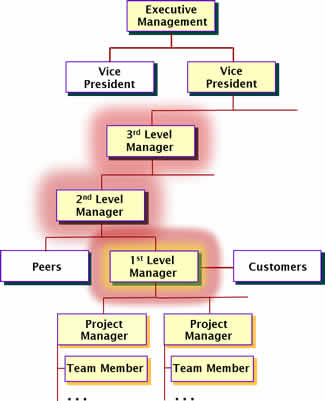 Executive Overview: In an era of increased emphasis on Management By Project, few organizations are fully realizing the benefits possible. Your opportunity is to build a climate that supports effective project practices. Those include: accurate, useful estimates, accelerated delivery, project partnerships, an emphasis on quality, alternatives analysis, and two-way communication. Then you support that climate with consistent methods and improved tools for project estimating and project management.
This Executive Overview provides executives with a better understanding of the steps that can improve their organization's project management. It identifies the information they should expect from their Project Managers to improve project return-on-investment. And, it describes the action items to pay attention to in order to continue improvement.
Learning Objectives
Discuss the problems facing today's projects, and the actions a manager can take to improve the project environment.
Identify the vital signs that the manager monitors in order to determine his or her staff's chances of project success.
Discuss the tools and techniques that the skilled Project Manager uses, and identify the benefits of consistent use of those techniques. Identify the key questions a manager asks, in order to assure that proper project management techniques are being used.
Discuss the impact a manager has on the development of Project Managers, and the climate the ideal project operates within.
Executive Overview Audience
This overview is for the top Executives in organizations whose staff has benefited from our Project Management learning experiences. We customize the content to your organization's issues, using this sample outline as a starting-point. Then, we interview key participants to craft the messages that will have the greatest impact for you.
The intended audience is key managers and executives who direct the efforts of Project Managers and teams. We can also tailor the information to the level of Manager involved, from the Executive Suite to Middle Managers.
Course Outline
1. Themes Of A Successful Project Climate
Today's Challenges
The Emergence of Management By Projects
The Vital Signs of Successful Projects;
The Importance of Communication
The Customer Partnership; Customer Involvement
Focus Areas For Improving Effectiveness
2. Project Management Skills
Project Types and Strategies
Problem-Solving and Opportunity-Seizing
Work Planning Skills; Life Cycles
Early Project Estimating; The Greatest Factors That Make Estimates Wrong
Improving Management Information With Assumptions-Based Estimating
Scheduling: Getting Rid of Can't Charts; Faster/Cheaper/Better Trade-offs
An Ideal Tracking and Reporting System
Summary
3. The Manager's Role In Building Better Projects
Prioritization and Resource Management
Managing World-Class Project Performance
Focus on Leadership Style; the Spectrum of Project Manager's Activities
The Manager's Impact On the Successful-Project Climate
Summary