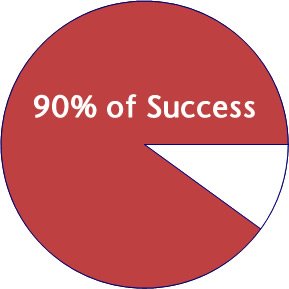 90% of Success is starting your project right! If you have not reviewed parts 1-3 of this article series, we suggest that you go do that before continuing here. Some following this series are a bit incredulous. One week or less, huh? What a pipe-dream! Some teams spend an entire week and get 10% that much information, much less the needed levels of management commitment. We mentioned our Rapid Initial Planning processes. Many organizations perform this type of quick-start approach today, so our method is no longer anything new. The RIP is a way seek the prerequisites that smart project managers assure for every project.
Case Application: Product Data Management System
In the early 1990s, one of the few remaining US-based military shipbuilding companies had a mandate: Update to an end-to-end PDM (Product Data Management) System, or lose their ability to bid on new warfighter systems. A PDM supports the entire process, from concept, through Design Engineering, to Construction, Sea Trials and Validation, Delivery. Importantly, add Parts Inventory Management for the life of the resulting product; in this case, a warship. One could say that this was an Information Technology project, because IT was involved. We felt it was a business survival  project, because the future of the entire business was at stake. Besides, while their shipyards were vast, their IT staff numbered fewer than 20 people.
My business partner engaged the client for one week, meeting with Business Executives. They performed an intensive Data Requirements-gathering session, papering the walls with all aspects of their ship-building business. These busy Executives dedicated an entire week, full-time, to understand everything about the ingredients of success for their business.
The following week, we went in, and spent four days working with that same group. We used our Project Initiation Rapid Initial Planning session. In a totally non-technical way, we parsed the massive program into subprojects. We based the subprojects primarily on timing and sequence of information flow across the organization. Then, we identified and measured scope of each project in the program, and discussed strategies and approaches. We evaluated use of software packages, and contracting out to "Big Six" consultancies who had relevant experience. Next, we identified assumptions and estimated cost and duration of the project multiple ways. Last, we stepped back, identified risks and responses, and developed project plans for each phase of each project of the program. All in three and half days.
90% of Success: Managing Plan Versus Actual
Our cost estimate was under $200 Million. The schedule was 3 years. Peak staffing was 80 people (remember, they had fewer than 20 IT staff). The chances of success within the several-year deadline period (2+) were less than 50%. The Executive Group spent the afternoon of the fourth day preparing a presentation to the company's Board of Directors. Their recommendation: Sell the company to a competitor, that already had a viable and compatible Product Data Management System. The Board accepted their recommendation, sold the company, and that company thrives today as a division of the acquiring organization.
This is one of the shortest programs I have ever been involved in. Was it a success or a failure? We say it was a tremendous success. Some might say it was a failure, because IT didn't even get to write code (I was a coder the old days, thus my interest with code). But what would have happened if they spent 2+ years and $200M trying to deliver? Chances are high that they would have failed. But here is the key: We accomplished all the items on that extensive list in the example, with a team of Executives who knew their business thoroughly. They quickly grasped the importance of the Initial Planning efforts we were applying to their Make-or-Break program.
The difference between this program and its projects, and many others is the prerequisites these Effective Executives put into place. They demonstrated a level of commitment that every project or program worth doing should have.
Helping Tools
Of course, such intensive efforts require more than full-time commitment of all the right people, including decision-makers. We also had the use of a PM tool that we developed, licensed to our customers, and used in all our project and consulting engagements. We call it Plan By Example, and it was originally based on the concept of 90% reusable project plans. These plans we collect from past projects, that merely need to be adapted to the current project. Many such tools are available today; this one benefited from my 1980s collaboration with Edmund Dante. In that era, he developed Project Bridge, a primary success driver for ABT's Project Workbench.
90% of Success Bottom Line
This 90% of Success example shows several things. First, the things you do in the first 10% of the project can have more impact than everything else we practice. Second, that those "things" always must include an organizational commitment to succeed. There is little sense in doing a project if that commitment is not there. Third, that in many cases, you can shorten a long list of actions to a checklist, if you institutionalize the PM practices we have described. Note: we never call these Best Practices; we call them Competitive PM Practices. We believe that best practices always vary with the situation.
You have heard the classic phrase, "There is never time to do it right, but there is always time to do it over." The time to do it right starts at the beginning of every project and program you touch. Stellar talent, long and hard overtime and heroic efforts can sometimes bring a project to a somewhat-successful conclusion. But without a consistent process, and the right participants, the tangible business benefits are often still missing. You, your Executives, Managers, Customers and project teams deserve more than that, don't you?
Your Comments?