Your Payment Transaction for Your Small Project Guide Subscription or License Was Cancelled!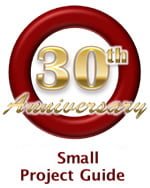 You cancelled your Small Project Guide payment through PayPal. Perhaps you pressed the Cancel button at the PayPal site. Do you prefer a different method of making payment? We can hold your product until you work out a payment method that is satisfactory to you.
Contact Us and explain the problem you had making your payment.
Click here to continue visiting our website.
Thank you for your interest in our products!