Preceding page: Learn the Crucial Issues of Small Projects!
Do you know how many of your projects are small projects? And the portion of your operations and project budgets that your small projects consume? And, do you know the business results you achieve from your investment of those funds? Most organizations do not!
The best way to speed successful small project completion, while improving your performance–and business results–is to apply our Small Project Guide. SPG is a key component in our suite of

Enterprise and IT project management and business improvement methodologies. Your result: a more purposeful small project start, more-effective management of your initiatives, and a faster end with the right business results done right, the first time.
Our Small Project Guide works in a wide range of Enterprise-wide applications and in Information Technology support projects, as well. Half your staff work in small projects, and many of those are not managed like projects, just 'more work that needs to be done by the end of the week… or month'. Because you have discovered this site, you have a much smarter alternative.
License Small Project Guide (SPG) and get online access!
Our customers have used SPG for over 30 years as part of their standard repeatable project management processes. They find it to be useful and effective for everything from ISO 9000 and ISO 21500 compliance, to increased project management maturity, to improved efficiency in resource tracking. They know that SPG helps guide them to increase their small project performance.
What You Get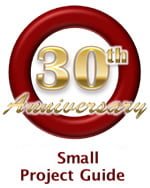 Small Project Guide's toolset works on everything from an individual's standalone PC (personal computer) to an enterprise environment, using Microsoft Word (Or Open Office, or other compatible software) for the templates, and online access for the reference pages. We even use it on tablets (with the right apps)!
Bonus: When you license or subscribe to Small Project Guide, you receive a subscription to our special SPG website, with downloadable templates for each path. Our design works as well on tablets as on PC's! This special subscription is only available with your SPG license!
Kansas, USA exclusion: Due to their vague terms of taxation of interstate commerce, we are not in Kansas any more. Sorry, we cannot accept payments from customers in Kansas!
License the Small Project Guide Now
The Small Project Guide (SPG) special anniversary discount prices are as follows:
The SPG Single-user License, $24.50. We immediately email you the download and subscription website link.
The SPG SixPack License for six named users $99.50. We email you the download and subscription website link.
We also offer a site licensing option, for those who want their entire organizations to manage their small projects much more effectively. Have questions, either about licensing, or our small project management workshops, or learning opportunities? Contact us for more information, and ask your questions in your email.
SPG Single-user
License $24.50

SPG SixPack
License $99.50
Other Payment Options for Small Project Guide
If you prefer to pay by check (based on a USA bank) or money order, send the appropriate amount to:
Stacy Goff, 14557 Westchester Dr, Colorado Springs, CO 80921, USA.
If you mail us a payment, please make sure you supply us with your name, full return address, contact phone number, and email address. For special arrangements, such as for our Small Project Management learning experience, Contact Us by email.