Keynotes, Global Events, or Corporate Meetings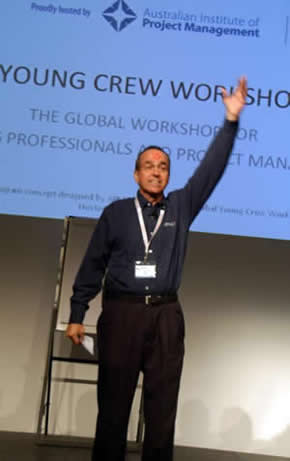 Stacy offers Professional Speaking topics for Project Management-related occasions. Those include World Congresses, Conferences, Society dinner meetings, Corporate Retreats, or other special events.
More than fifty presentations in major events around the World, in three dozen countries on five continents! Stacy has a deep understanding of the cultural aspects of successful projects.
In addition to the Professional Speaking topics below, we have many others, based on our articles in that section of this website. And, we can prepare custom presentations that meet your special needs.
Professional Speaking Keynote, Conference and Meeting Topics

Engaging Talent Management to Increase Project and Business Success


Today's Most-Competitive PM Teams: Shining a Light on Next-Gen PM Practices


 Five Golden Keys to Innovation and Development Through Projects


 The Path to High-Performing Project Management in a Multicultural Context


 When and How PM Change Agents Add Business Value

 Navigating the SSS's: Engaging Stakeholders for Project Success


 Tip of the Iceberg: Manage the Entire Iceberg to Improve PM Performance


 Balance Efficiency and Effectiveness With Actionable Project Information


 Revisiting Risks: Threats and Opportunities in Complex Projects


 Tomorrow's Five Greatest PM Challenges –– That We Must Solve Today

 The Rising Demand For Competence in PM Organizations


 Four Tides Converge to Advance PM Competence and Performance


 Everything I Know About Project Time Management I Learned In Sports Car Racing


 PM Success and Decision-Making Under Difficult Contexts


 Close Your Weakest Links By Increasing PM Competence

 Tight, Inflexible Deadlines: Scourge of Projects


Distinguishing and Developing PM Competence


 Project Levers and Gauges


 Managing Risk Is Project Intelligence


 Small Projects: Don't Just Do Them!
Of course, we can custom-prepare your presentation, based on other relevant topics from our articles, or our Change Agent blog posts. If you are interested, Contact Us!

Increasing Personal, Project, and Portfolio Management Performance